I learned that guilt, fear and grief alone couldn't pull me out of the deep pit of addiction.                                                                                                                               DONATE NOW!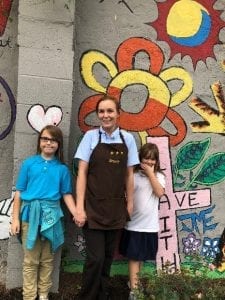 My name is Jennifer and I am a recovering addict, a mom of three beautiful girls and Happy to be alive! But it was not always like this….
Around age 11, my parents' marriage began falling apart and my mom became extremely addicted to meth.  She was so neglectful.  Between the ages of 12-15, I started smoking, drinking, having unprotected sex and experimenting with drugs and ran away from home.  I moved to Florida with my dad and brother as my oldest brother lived there.  My dad became a crack addict, my oldest brother was in a rope swing accident resulting in a spinal cord injury with paralysis.  No sooner that my brother, my Superman and someone I looked up to got out of the hospital, my boyfriend was killed in a car accident.  Soon thereafter, we moved back to Tennessee. At the end of my senior year, my grandfather, one of my favorite people, got in a car accident resulting in the discovery of stage 3 lung cancer and he died 6 months later. I packed my things and moved back to Florida.  When I was 18, I would sit on the porch alone and drink half a fifth of cheap whiskey.  I became tired of Florida, so I moved back to Tennessee and began working where I met my daughter's father, John at a party one evening. It was not long before we found out I was pregnant.  Paul drank and stayed gone a lot.  Shortly after giving birth to my first daughter, I found out I was pregnant with my 2nd.  The stress of being a young mom took its toll on both of us.  I left John thinking I would turn my life around, but several months later, he showed up. At one point, John shoved me against the wall and pushed the kitchen table towards my pregnant belly. When I was seven months pregnant, I moved away from my children's father again.  During this time, I was using meth and had scary relapses of drugs, fear and unresolved emotional turmoil.  I got high and flipped out causing me to be arrested which prompted DCS to become involved and remove my 2 daughters from me.  When my third daughter was born, DCS found a rehab in Memphis and after 4 short weeks I decided to give her up for adoption to a lovely couple and then I left the rehab. I'd like to say after this I became sober, but I didn't. I wasn't done with addiction and it wasn't done with me. About eighteen months ago, I made some bad decisions.  I thought I could do it on my own.  I spent the next six months jobless and homeless with some couch surfing until I spent all my money and headed back home and finally called Mending Hearts.
I had finally had enough of myself, my addiction, and the miserable life I was living.
I needed to not only change my environment, but my mind, heart and spirit.
I have been a resident of Mending Hearts since July 2017. I intended to only go through the 28- day treatment program and then go back home. Through the advice of staff, I decided to stay and move into the Peer Support Community (Phase 1 and 2) and then to Independent Living and now finally Mom's with Kids.  With the help of staff and working my recovery, I was able to regain physical custody of my two daughters within 2 weeks of moving in.  I have never been so happy and fully engaged in my life!
Thank you Mending Hearts for this tremendous opportunity for me and my daughters!
Addiction is a disease. Relapse is a part of addiction. It is important to remember that relapse does not mean failure.  Recovery is a life-long process of hard work and dedication to one's recovery. 
"At least three people die each day in Tennessee from an opioid-related drug overdose death. In 2017, 1,776 people died of overdose deaths in Tennessee." (TN Together-TDMHSAS).
Imagine standing in a room of 300 people and knowing that 3 people die every day from a drug overdose death. In 100 days, the people in that room, including yourself, would have died. Treatment and recovery is the answer.
Mending Hearts provides a Full Continuum of Care with integrated evidence based, physical, mental and emotional treatment along with wrap around recovery support services and housing for 98 women. Our Continuum of Care consists of: Licensed Social Setting Detox and Residential Rehab Treatment Facility, Intensive Outpatient Treatment Program, Peer Support Community with Transitional Housing, Independent Living and Mom's with Kids Program. 91% of our residents have a co-occurring mental health disorder along with their addiction.  Last year, we served 367 women and as you have read in the papers and heard on the television….The abuse epidemic is the State's number 1 health crisis.  Nationally, more than 28,000 die from opioid overdoses every year (Tennessean, June 15, 2016)
The need is great and Your gift matters!! 
Because of YOU, our recovery program will help other Jennifer's break the bondage of addiction and live life fully again.
 Can other Jennifer's count on Your support?
 ********************************************************************************************************************* 
In Celebration of this Holiday Season, Mending Hearts wishes for you Gifts of Joy, Health and Happiness.
  My Sincere Blessings,
   Trina Frierson, CEO
P.S. Remember, Mending Hearts serves indigent, homeless women in addiction with no resources including insurance.
Please make your gift by December 31, 2018. We thank you for your continued support and partnership.