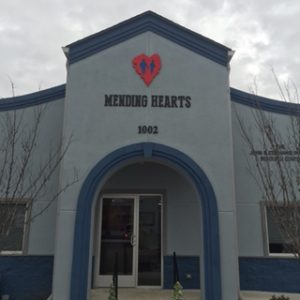 Mending Hearts was founded in 2004 by Katrina Frierson and Charlotte Frierson, two women who were in recovery from addiction and knew first-hand about life on the streets, periods of homelessness, incarceration, and losing custody of their children. They had lived those lives. But they decided to be the change they wanted to see in our community. So they took a step in faith and used the money they earned from their cleaning business and gave a home to seven women in recovery. With that compassionate act, Mending Hearts was created.
Mending Hearts' mission is to provide shelter, hope and healing to women who are homeless due to addiction and co-occurring mental health disorders. Nurturing homeless and addicted women and their families to enable them to achieve better lives is what drives our staff every day. The Mending Hearts model helps to ensure that when a woman completes the program and leaves Mending Hearts she remains substance-free, mentally stable, is a healthy provider for her children and becomes a contributing member of our community. Services are provided to alcohol and drug addicted and dual diagnosis (co-occurring) women who have experience homelessness, have been victims of sexual assault and domestic violence and are coming out of prison.
Today Mending Hearts is a 501(c)(3) nonprofit organization in
Nashville, TN and has served over 3000 women. Mending Hearts' continuum of care includes a licensed Social Setting Detox and Residential Emergency Shelter, Transitional Housing, Independent Living and Permanent Housing for our Mom's with Kids program.  Mending Hearts has the capacity to serve 94 women at a time who dare to believe that they, too, can achieve the change they need to see in their own lives. Mending Hearts serves the Middle Tennessee and beyond.